We were featured on Couture Colorado today. We hope you LOVE it. Enjoy!
I wanted to create something that would blend a clean modern black and white look with a bit of theatrics. Since black and colored wedding gowns are trending right now, we put the bride in a beautiful custom made black dress with small white feathers adorning the bodice. The bridesmaids in a simple white dress with a bold striped man's tie. Reversing the norm of the bride in white and the maids in color. I loved the feathers on the wedding invitation, the custom bridal shoes and the different colors and types of strips. There is even a making of video from our friends at Cinematique Film: Making of Video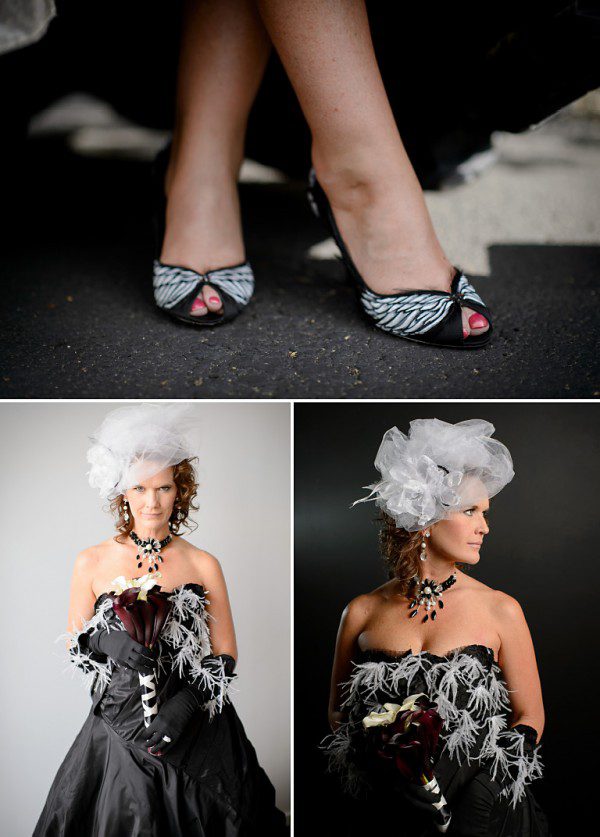 COLOR PALETTE: Black and White
PLANNER/COORDINATOR: L Elizabeth Events
PHOTOGRAPHER: Sasser Stills
CINEMATOGRAPHY: Cinematique Films
BRIDAL GOWN: Brooks Ltd.
INVITES/PAPER: The Watermark
CATERER: Occasions Catering
BAKERY: The Makery
LINENS: Butler Rents
SHOES: The Painted Shoe
FLORAL: Isabelle Kline Design
HAIR/MAKE-UP: Girls and Curls
BRIDE'S HAIR PIECE: Girls and Curls Couture
JEWELRY: Katharine-Marie Design