Colorado Wedding Planner, Colorado Wedding Coordinator, High Altitude
Planning for a Wedding at High Altitude, Colorado
The Rocky Mountains of Colorado range between 8,000 and 14,000 feet above sea level. Denver is 5,280 feet (1 mile high) above sea level. Altitude can be an issue! It can be a issue for young to old, fit or not. If you are planning a wedding in a Colorado mountain town above 8,000 feet, here is some useful information about acute mountain sickness and how you can keep yourself and your guests happy and healthy at high altitude. Above Photo Credit: Cali Frankovic Photography
What causes acute mountain sickness, high altitude sickness?
Higher altitudes have lower levels of oxygen and decreased air pressure. When you travel in a plane, drive or hike up a mountain, or go skiing, your body may not have enough time to adjust. This can result in acute mountain sickness. Your level of exertion also plays a role. Pushing yourself to quickly hike up a mountain, for example, may cause acute mountain sickness.
The symptoms of acute mountain sickness generally appear within hours of moving to higher altitudes. They vary depending on the severity of your condition.
Symptoms: mild acute mountain sickness
If you have a mild case, you may experience:
dizziness
headache
muscle aches
insomnia
nausea and vomiting
irritability
loss of appetite
swelling of the hands, feet, and face
rapid heartbeat
shortness of breath with physical exertion
Symptoms: severe acute mountain sickness
Severe cases of acute mountain sickness can cause more intense symptoms and affect your heart, lungs, muscles, and nervous system. For example, you may experience confusion as a result of brain swelling. You may also suffer from shortness of breath due to fluid in the lungs.
Symptoms of severe altitude sickness may include:
coughing
chest congestion
pale complexion and skin discoloration
inability to walk or lack of balance
social withdrawal
Below this beautiful photo of Buffalo Mountain in Summit County, is some tips and advice for yourself and your guests on having a wonderful wedding weekend in the Rocky Mountains of Colorado or any mountain town at high altitude. I recommend adding this information to your wedding website, as well, so guests are aware of high altitude issues so they can be well informed. Knowledge is power!
Photo Credit: Emilyanne Photography
Buffalo Mountain, Summit County
Things to Remember When Visiting High Altitude
1. DRINK WATER! – Before your trip to Denver and Vail, and while you are here, drinking plenty of water is the number one way to help your body adjust easily to our higher altitude. The low humidity in Colorado keeps the air dry, like the desert, so you need about twice as much water here as you would drink at home.
2. Monitor Your Alcohol Intake – In Colorado's rarified air, golf balls go ten percent farther… and so do cocktails. Alcoholic drinks pack more of a wallop than at sea level. It is recommended that you go easy on the alcohol in the mountains and in Denver, as its effects will feel stronger here.
3. Eat Foods High in Potassium – Foods such as broccoli, bananas, avocado, cantaloupe, celery, greens, bran, chocolate, granola, dates, dried fruit, potatoes and tomatoes will help you replenish electrolytes by balancing salt intake.
4. Watch Your Physical Activity – The effects of exercise are more intense here. If you normally run 10 miles a day at home, you might try 6 miles in Denver.
You gotta wear shades
5. Pack for Sun – With less water vapor in the air at this altitude, the sky really is bluer in Colorado. But there's 25 percent less protection from the sun, so sunscreen is a must. Colorado receives over 300 days of sunshine each year (more than San Diego or Miami – they say). Bring sunglasses, sunscreen, lip balm… even in winter.
6. Dress in Layers – Two days before your trip to Denver and Vail, check the weather and use this information to pack appropriately. Because you'll be closer to the sun, it can feel much warmer than the actual temperature during the daytime, but then become very chilly after sundown, particularly in the Spring and Fall. It is best to layer your clothing.
7. Enjoy Yourself – Don't let anything you hear about the mile-high altitude scare you. The air is just thinner and dryer. In fact, many people with respiratory problems move to Denver for the benefits of the dry air. Just follow these simple tips and you will very likely not even notice the difference.
More medical information can be found here: High Altitude Awareness
Enjoy some s'mores
Like #7 said, don't let the altitude scare you, just make some s'mores with your guests, relax and hire a wedding planner or coordinator who is knowledgeable about everything you can encounter in a mountain wedding. Like us!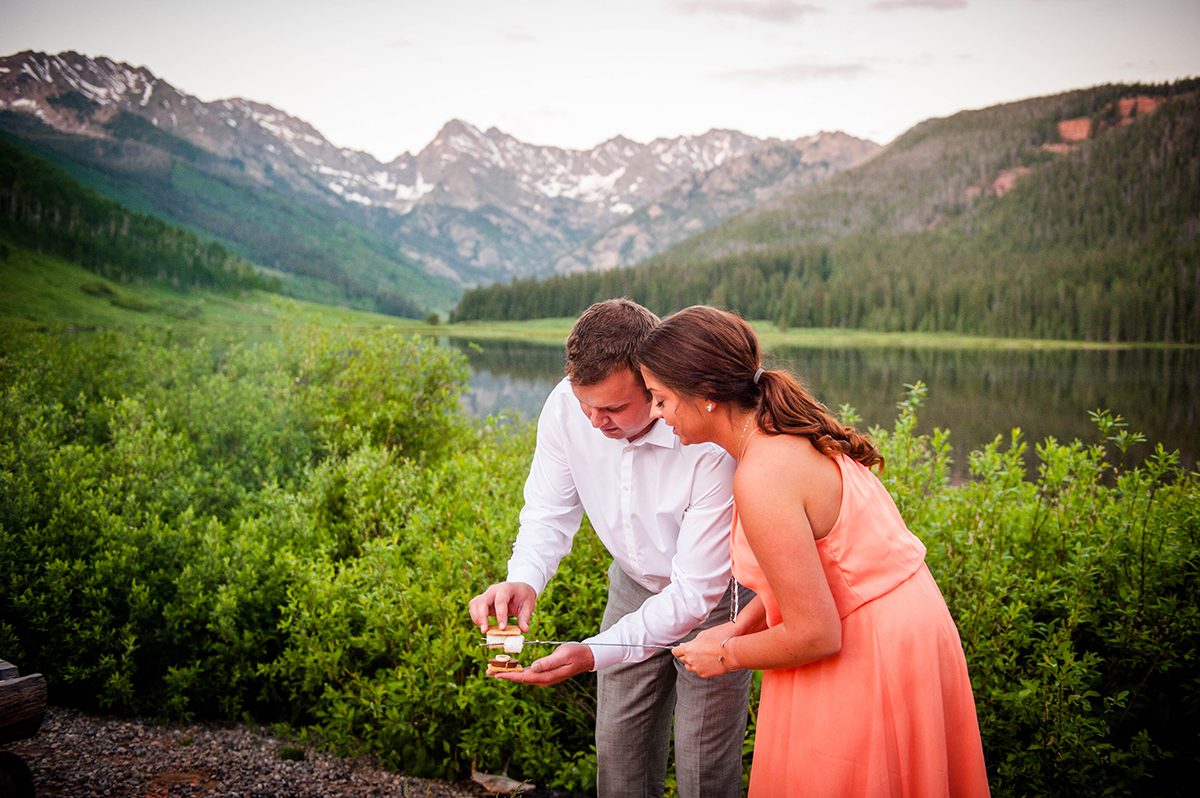 Piney River Ranch, Vail
COLORADO WEDDING PLANNER, L ELIZABETH EVENTS
If you are looking for a wedding planner in Colorado – Vail, Beaver Creek, Breckenridge, Arapahoe Basin, Frisco, Dillon, Winter Park, Silverthorne, Granby, Copper Mountain, Steamboat Springs – we would be delighted to help! We are mountain specialists and would love to help you create a day for of joy and ease. Get in touch and tell us all about your wedding plans… CONTACT US