Would you trash your wedding dress for art's sake?
In October, we were featured in both the High Country Wedding Magazine and the Summit Daily News about a new trend in wedding photography. A dirty one! Women all over the country are saying no to preserving their wedding dress in a box in the closet and are taking the dresses out for one more frolic in the park – or ocean – or mechanic's shop – or in our case a pig's pen. They are trashing their dress for art's sake!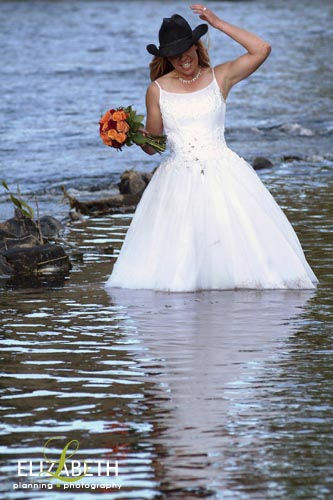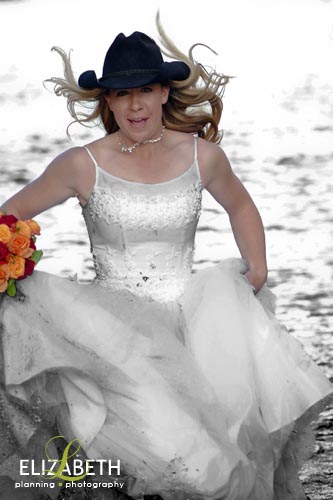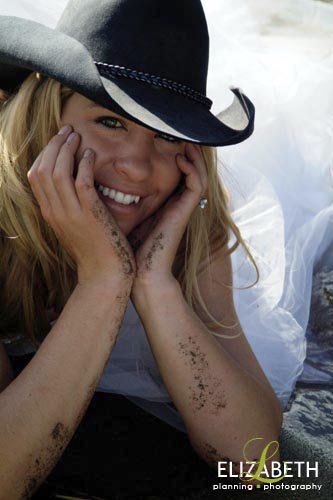 JJ, our bride, was sooooooooo amazing. She was a total trooper. Not only did she chase the pigs around the pig pen she jumping into the Colorado River in September when the river is unbelievably cold.
We had the time of our lives that day and the adventure yielded some amazing photographs. I posted the entire article written by Leslie Brefeld below for your enjoyment! Ladies, when your ready to make your dress into art, just give us a call!!
Trashing the dress, for art's sake
BY LESLIE BREFELD
High Country Wedding Magazine/Summit Daily News/Aspen Times
Summit County, CO Colorado

Bridal dresses have finally reached their full potential. Formerly only photographed within the confines of wedding ceremonies and receptions, a new trend takes the bride and dress into new situations, often creating avant-garde or high-fashion type photography. Trashthedress.com, created by Mark Eric, was inspired by the work of Las Vegas photographer John Michael Cooper, who about three years ago began working with wedding dresses as the subject. According to Paige Elizabeth, a photographer who works with Eric, Cooper superimposed a fire on the back of a wedding dress. This sparked the idea of putting the brides and their sacred attire in some unlikely spots. Elizabeth cited that the most outrageous she's seen has been women in their dresses being painted graffiti-style in the South, walking into swamps of the Bayou, and even taking scissors to it to truly "shred the dress."All of this, of course takes place after the traditional shots. JJ Shepherd, a horse wrangler for the Bar Lazy J Guest Ranch in Parshall, was married this fall at the ranch. Laura Pearson of Frisco's Breckenridge Wedding Photography took the shots for the wedding; a few weeks later the real fun began. Pearson took photographs of Shepherd in places throughout the ranch, where a wedding dress was never meant to be, including in the Colorado River that runs next to the spot, underneath a horse like she was shoeing it, driving a tractor and even chasing around the pigs in their pen, finally cooling off in the horse's water trough."It was kind of an off-the-wall thing," Shepherd said. "Now I have all this stuff I can tell my kids and grandkids."She said she wasn't worried about the possibility of her children wanting to wear the dress for their big day because it would likely be out of style by then. She also imagined it would just sit in a box if she didn't do something fun with it now. Shepherd's husband Scott, who is also a wrangler at the ranch, was there at the shoot, and even helped her with ideas and staging."It was fun having him there, joking with me," JJ said. "It would have felt weird if he wasn't there."When asked if trashing the dress was more fun than the wedding itself, she said, "The ceremony part and reception were awesome, but taking pictures was so boring. Everything was staged and you are supposed to look pretty."I'm not the dress type of person, so to do that was awesome."Not all of the dress gets ruined, however.According to Elizabeth, trashthedress.com creator Mark Eric believes it is more about creating than destroying. She recommends that brides who have their weddings in the mountains take their dress to an urban setting, and brides who have a destination wedding, do their "trash the dress" shoot the day after the wedding. Putting the bride and dress in an unusual setting can mean the dress is still salvageable. She noted even a dress that's been in the ocean can be dry-cleaned, yet warned this should not be tried with attire made of duchess silk satin. As for the photography, this was Pearson's second shoot of this type, and she hopes to do more in the future."There are some shots in there that I think are some of the best of my photography," she said. Trashthedress.com is an open resource to brides, listing photographers who are interested in this work, and also a forum for displaying it.