DANCE INSTRUCTOR, SWING DANCE LESSONS, WEDDING DANCE INSTRUCTION
A Roaring Good Time! 1920's Wedding with Swing Dancing
The Great Gatsby took place in the roaring '20's; the height of the Jazz Age and everything swing! A wonderful theme for a unique wedding, complete with costumes, a jazz trio and swing dance lessons.
Sunset Reception under the Stars 
What could be better that a wedding set out under the stars? In our opinion, nothing! Brooke and Ryan's private residence in Boulder, Colorado was a perfect choice for the ceremony and reception because well just look at the photos from Adam Houseman Studios and you will see.
Both were held outside in the backyard and the weather was spectacular. Guests enjoyed dining at community tables under the setting sun while listening to the soft sounds of jazz by Odessa Rose. Everyone dressed the part in their vintage attire and had a rousing good time sipping champagne and custom made cocktails. After dinner, the dance floor opened beneath market lights with the stars surrounding the couple and guests and the party began…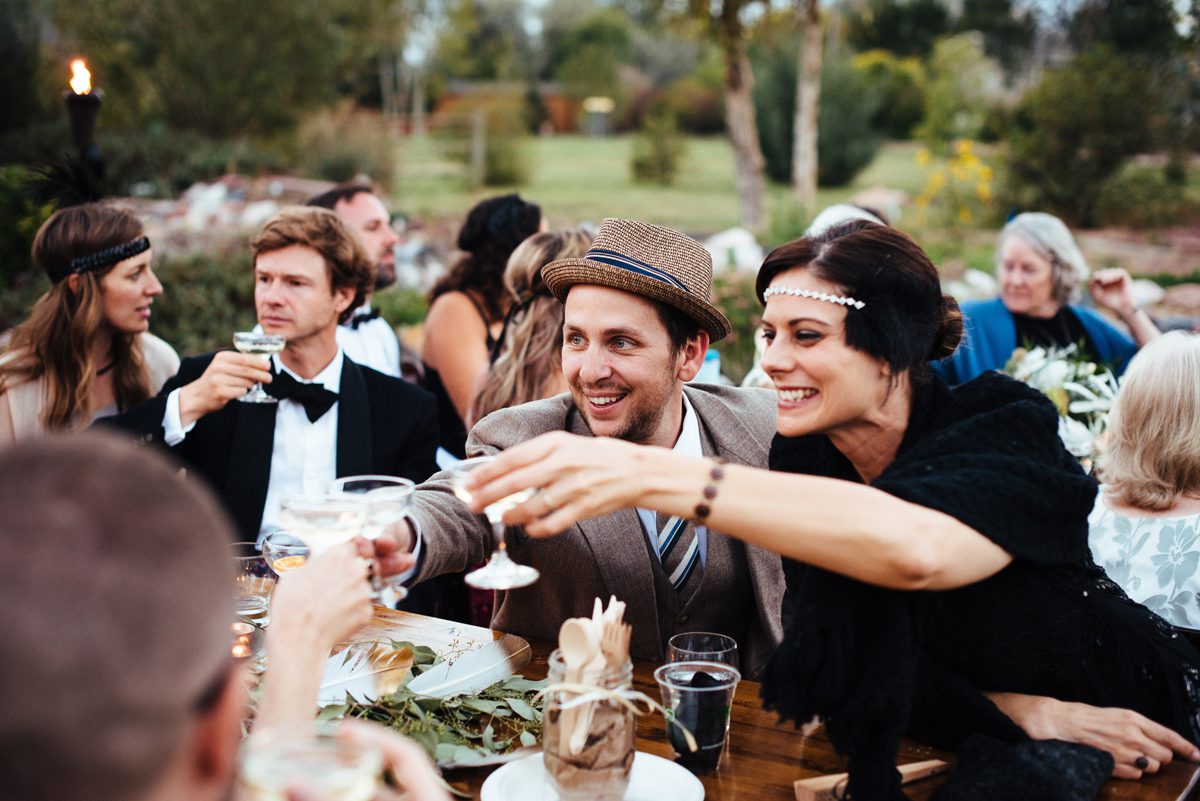 The Dance Lessons Begin…
Having dance lessons at a wedding or event is a fabulous way to get the party started! Especially if the band or DJ you've hired is in a certain genre. This allows guests to feel comfortable on the dance floor and to take part in the dances of that era or genre of music. For Brooke and Ryan's wedding, which was Great Gatsby themed, guests were excited to learn swing moves from the 1920's to the 1940's from a professional dance instructor. Encouraging everyone out on the dance floor with fun and laughter helps get through the potentially awkward time after first dances. Plus, everyone leaves with some new steps they can use to impress their friends at the next event! The lesson was a big hit as you can clearly see from the photographs.
The Teachers Cut Loose
After the official lesson is over the dance instructors can show more advanced moves. Laura and Miles provided swing dance entertainment for guests as well as some motivation to keep grooving.
Cheers to the Happy Couple
Congratulations on your marriage Brooke and Ryan. Special thanks to Honey at Ivory Events for connecting us. We are so thankful to have been but a small part of your day.
From the Great Gatsby…
"His heart beat faster and faster as Daisy's white face came up to his own. He knew that when he kissed this girl, and forever wed his unutterable visions to her perishable breath, his mind would never romp again like the mind of God. So he waited, listening for a moment longer to the tuning fork that had been struck upon a star. Then he kissed her. At his lips' touch she blossomed like a flower and the incarnation was complete." 
― F. Scott Fitzgerald
And so they danced their way into their forever with delight.
COLORADO DANCE TEACHER, L ELIZABETH EVENTS
If you are looking for dance instruction in Colorado, we would be delighted to help! We LOVE teaching couples to shine together on the dance floor. We teach most dance styles in a fun and lighthearted environment. Our studio is in Northeast Denver. Get in touch and tell us all about yourselves… CONTACT US
WEDDING VENDORS
Venue: Private Residence, Boulder Colorado
Planner & Designer: Ivory Events
Photographer: Adam Houseman Studios
Band: Odessa Rose
Dance Instruction: Laura and Miles, L Elizabeth Events