Breckenridge Engagement Photographer, Colorado Wedding Photographer
Breckenridge Proposal at Beaver Run Resort
Surprise, Surprise
Well as you can probably tell from the title, this entry is about a surprise engagement session I did in Breckenridge, on the mountain, right near the Beaver Run Superchair. It was a adventurous Colorado snowboarding proposal to remember.
It was a beautiful and typical December day in Breckenridge. Clear skies, warm temperatures (for the winter) and love was in the air! Scott had spent an hour with me the previous day planning his surprise. Where would he stop to propose? How would I hide? What if she didn't feel like skiing that day? What if he dropped the diamond in the snow??? The unknowns were endless.
He was going to ask his girlfriend (his high school sweetheart, Taylor) to marry him the following day right on the slopes in front of God and everyone. He was so excited! His family was so excited! I knew she would be excited too! The following day came and at 1pm I was in my "hiding" spot. I captured them riding the chairlift and waited for them to appear in the designated spot.
As I waited I realized I had butterflies in my stomach. I guess that is why I love my job, because you get to be apart of people's best days and share in the adventure.
They finally arrived at the spot and I started taking pictures trying to be invisible until I realized Taylor had absolutely no clue I was there. She was mesmerized by her moment with Scott. The love they shared wiped away the rest of the world. I remember what that is like.
Finally, after the proposal, he told her I was there taking pictures to capture the moment for her, them and her family back home. It was another great surprise – hence the title Surprise, Surprise.
That day, I never heard her answer to the question but I am sure by all the kissing and tears she did in fact say "Yes".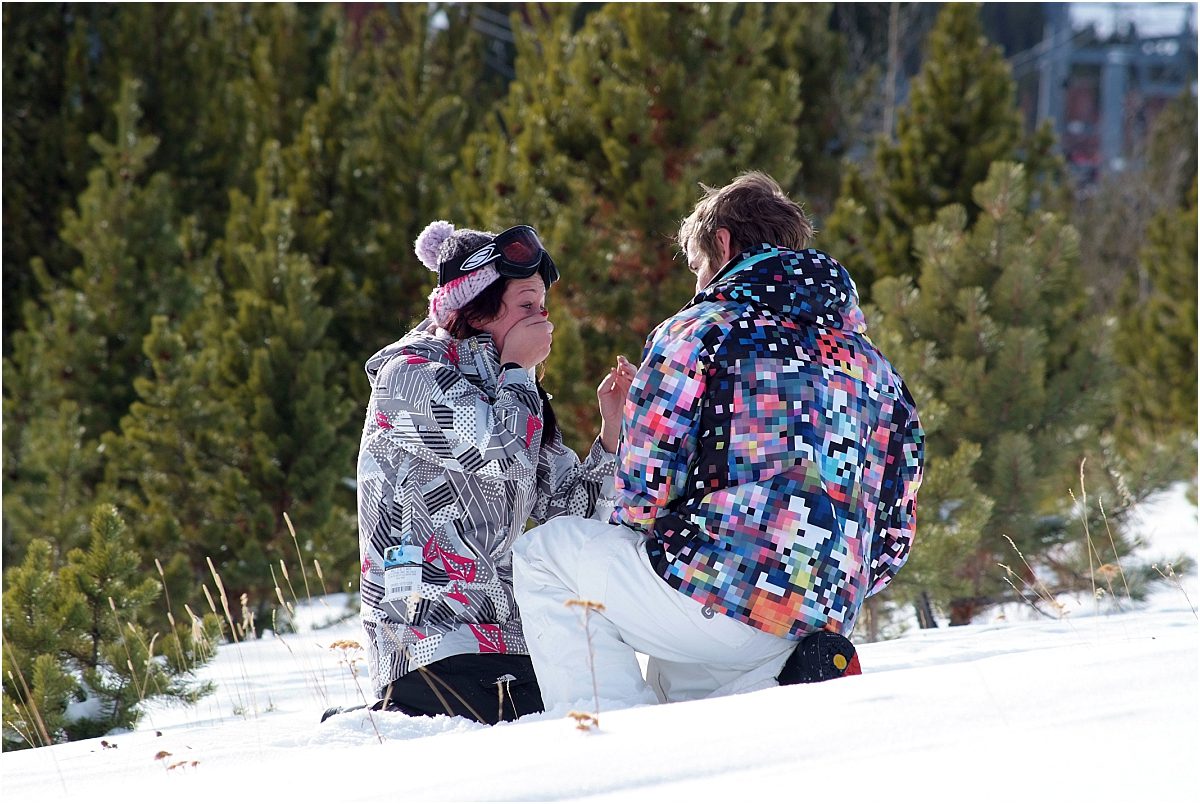 To Scott and Taylor: An old Irish Blessing -"May flowers always line your path and sunshine light your day. May songbirds serenade you every step along the way. May a rainbow run beside you in a sky that's always blue. And may happiness fill your heart each day your whole life through."
Congratulations you crazy kids! I know God has great things in store for you…
Breckenridge Adventure Photographer
Want to do your own adventurous Colorado proposal? CONTACT US and we can help you plan and capture the surprise.
SaveSave