Luxury Wedding Planner, Arizona Wedding Planner, Arizona Wedding Planning
Luxury Wedding in Scottsdale, On Cloud Woody
If you want to see what a luxury backyard wedding looks like then you will LOVE today blog post about Kendra and Jamie's gold and blush backyard soiree in Scottsdale, Arizona. It ranks as one of my all time favorites!  It sits neck and neck with her sister Kaitlin's wedding. Although both weddings could not have been more different.
First Kaitlin + Jon's Wedding
Like I mentioned, in 2013, I planned a wedding for Kendra's sister at their uncle's home in Evergreen, Colorado. It was an instant connection with the families! They are some of my favorite people! They are loving, authentic, kind and super fun!! The wedding was a whimsical rustic mountain affair to remember!!
Then Kendra + Jamie's Wedding
So when Kendra got engaged to her sweetheart, Jamie,  I was unbelievably honored to be asked to plan their wedding in Scottsdale, Arizona at their parent's home. This one was a luxury backyard wedding to remember! The sparkle, the detail, the music, the wood-fired pizza! They even brought the vintage Ford out, from Colorado, so Kendra's dad could "walk" both girls down the aisle in this beauty. I highly recommend watching their wedding video. It will warm your heart and show so much more of the story of the day. Watch for the bride's entrance in that amazing vintage car.
Siblings with Style
And if you are interested in seeing how different and unique two sister's weddings can be, check out Kaitlin and Jon's Whimsical Mountain Wedding on Style Me Pretty. Currently, Kendra and Kaitlin (and their hubbies) are both expecting their first child and I couldn't be happier for them. Can you believe getting the share such a special time with your sister and best friend! To the Flynns, Kools and Woodys – love all you guys to the moon and back…
Video Credit: Cinepro Studios; Photo Credit: Joshua McDonald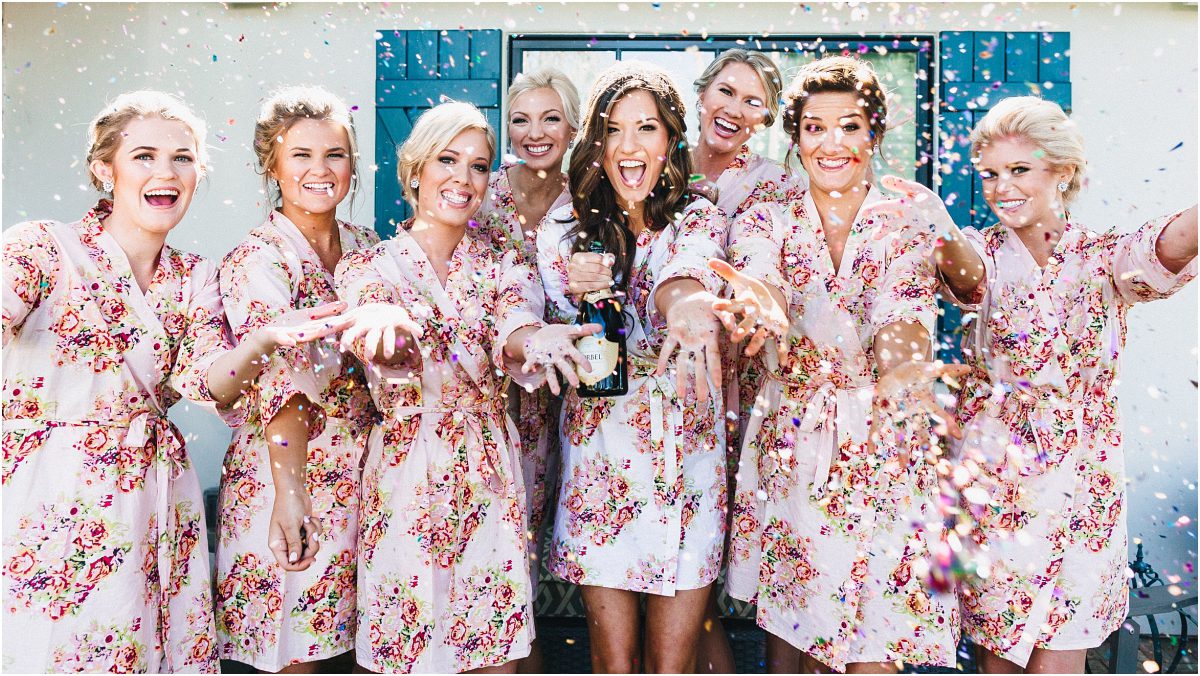 ARIZONA WEDDING PLANNER, L ELIZABETH EVENTS
If you are looking for a wedding planner in Arizona, we would be delighted to help! We LOVE the desert landscapes particularly around Sedona, Scottsdale and Tuscon. Get in touch and tell us all about your wedding plans… CONTACT US
WEDDING STYLE
Color Palette: Blush, Navy and Pink
Style: Luxury, Backyard, Chic
Feel: Glamorous, Romantic, Distinct
WEDDING VENDORS
Venue: Private Residence, Scottsdale Arizona
Planner & Designer: L Elizabeth Events
Photographer: Joshua McDonald Photography
Cinematographer: Cinepro Studios
DJ/Musician: Spinphony
Catering: Food Trucks – The Rocket, Aioli Gourmet Burgers
Desserts: Urban Cookies Bakeshop
Floral Design: Carte Blanche Design
Hair and Makeup: Beauty by Jessica Gallegos
Stationary/Invitations: Lexisworks
Dress: Justin Alexander
Jewelry: Kute N Klever
Shoes: Valentino
Bridesmaids: Badgley Mischka from Rent the Runway
Menswear: J Hilburn
Event Staffing: Party Staff
Valet: American Valet
Rentals: Classic Party Rentals, Glamour and Woods, La Tavola Fine Linen, Royal Restrooms